Leonardo's new managing editor highlights experimentation and curiosity at the journal
Jasmine Bridges—an experienced editor and education expert with degrees in English, art history, and educational psychology—was recently appointed the new managing editor of Leonardo, a leading peer-reviewed international journal publishing at the intersection of arts, music, science, and technology.
Founded in 1968, the journal has a long history of breaking down the barriers between contemporary arts and sciences. Bridges' multidisciplinary background and passion for education equity make her an ideal fit for the role, and she hopes to bring original ideas to readers in engaging and accessible ways in the years to come.
Read our conversation with Bridges below, and learn more about Leonardo here.
---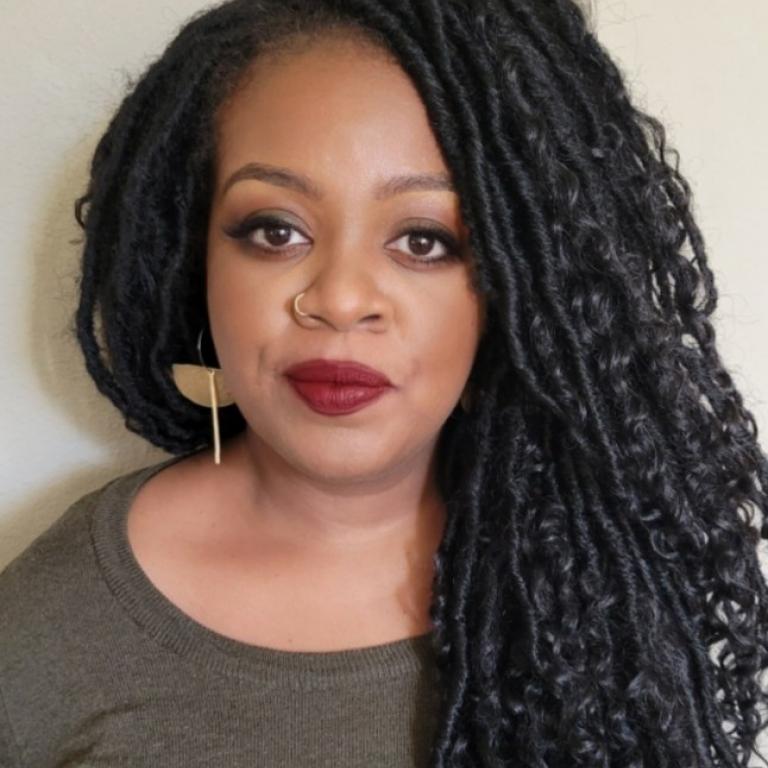 MIT Press: Like the focus of Leonardo, your background is also quite interdisciplinary; you have degrees in English, art history, and educational psychology. What do you see as the main appeal of working across a variety of fields?
Jasmine Bridges: I get excited when I can see the connections between things and follow my curiosity with no conclusion in mind. I love to learn. The rabbit hole is my home!
I remember finding this TED Talk called "Why some of us don't have one true calling" that Emilie Wapnick presented. It was about the idea of a multipotentialites, or people whose interests span across disciplines or fields, in contrast to specialists. Seeing my strengths as a generalist who values the big picture helped me to understand myself better. I think that's why being an editor appeals to me so much. I get to immerse myself in new—and disparate—ideas all the time. That's especially true at Leonardo.
MIT Press: What excites you the most about working with the journal?
Jasmine Bridges: I think this connects a lot to the appeal of working across disciplines. I'm always reading something that makes me want to know more. The ideas in many articles are often new to me, and I get the chance to explore interesting areas of thought and practice I might never have encountered. I also appreciate that, although the journal is rigorous and adds significantly to the body of academic knowledge, there's definitely a spirit of experimentation and curiosity in what we do. I also don't take it for granted that I get to work with seriously smart, creative people who love the same things I do. Learning from them was one of the reasons I wanted this role.
MIT Press: You are passionate about and advocate for equity and access in education. How do you hope to pursue this work through Leonardo?
Jasmine Bridges: The ideas in Leonardo are for everyone. One of the first Leonardo articles I ever read was about converting DNA sequences into music. It was fascinating! I wanted to talk to everyone I knew about this idea. I was convinced that they would think it was interesting, too, even if, like me, they weren't an expert in genetics or music. Everyone responds to beauty. Everyone engages with science and technology on some level every day. That's why Leonardo's scope will always be relevant. One of my goals is to examine and expand our reach and bring these big, interesting ideas to more people.
MIT Press: Leonardo was founded over 50 years ago in 1968, and this year celebrates 30 years in its publishing partnership with the MIT Press. What do you consider the benefits (and, perhaps, the challenges) of working with a journal that's so established and has such a deep history?
Jasmine Bridges: Leonardo's reputation brings so many people who are leaders in their field to us. It's been exciting to see the artists, scientists, and visionaries who want to publish in the journal or work on projects with us because they know who we are and what we aspire to be. The challenge is always to preserve the values and the vision that established Leonardo, but also to be a bit fearless in pursuing goals that will ensure that we continue to lead the way.
MIT Press: What's next for Leonardo? How do you hope to help shape the journal over the following years?
Jasmine Bridges: My main goal will always be to bring curiosity and an open mind to new ideas. I hope to amplify unique voices because there are groundbreaking things happening all around us. I want Leonardo to be a part of them.
---