Dear Friends and Readers,
I love the image we've selected for the cover of our Fall 2020 catalog (from The Architecture of Bathing). It evokes for me how we all feel at this odd moment in history: at sea, isolated, connected only from a distance with other human beings. These uncharted waters have brought some of us closer than others to real loss and trauma, and yet. . . life in many forms goes on. The life of the mind, in particular, can flourish in the midst of circumscribed options and diminished distraction. Thousands of scholars and researchers of all stripes around the world have turned their attention to understanding, ameliorating, and explaining the unprecedented COVID-19 pandemic and what lies ahead.
As we grapple with the seemingly uncontrollable spread of this virus, with the implications of social distancing, and with the tragic loss of human life, we all need resources to help us make sense of this crisis. The mission of the MIT Press challenges us to rise to the occasion in what and how we publish. It is in this spirit that we have launched MIT Press First Reads, a new series of rapidly produced, digital-first titles providing expert insight to inform matters of urgent local and global consequence.
Our first book in the series is Economics in the Age of COVID-19 by economist Joshua Gans. In this book, Gans steps back from the short-term chaos to take a clear and systematic look at how economic choices are being made in response to COVID-19. He outlines the phases of the pandemic economy, from containment to reset to recovery and enhancement. The publication of this book and the launch of MIT Press First Reads speak resoundingly to who we are as a publisher. You can count on the MIT Press to respond quickly, without sacrificing editorial rigor or quality, to the pressing need for timely information, as we strive to help readers weather this storm.
At the MIT Press, we embrace diverse voices, and we recognize that the perspectives, experiences, and scholarship each of our authors and colleagues brings to the table enriches our publishing program, our workplace, and our world. A number of books from our fall catalog speak to the power of technology to address diversity and inclusion head on. The Smart Wife looks at the design of gendered devices and how this re-inscribes those outdated and unfounded stereotypes. On a the pollical front, Democratizing Our Data calls for a more automated, transparent, and accountable framework for creating high-quality public data that would empower citizens and inspire the government that serves them. And from an ethics standpoint, Right/Wrong takes on a series of technology-influenced ethical dilemmas, from sexual liberation to climate change to the "immortality" of mistakes on social media.
No matter what your interests, our fall catalog has something for every curious mind. This blog contains a selection of books available, but you can also see the full catalog here. I hope you enjoy it!
—Amy Brand, PhD
Director, The MIT Press
---
NEW FROM THE MIT PRESS
The COVID-19 pandemic has unleashed a firehose of information (much of it wrong) and an avalanche of opinions (many of them ill-founded). Most of us are so distracted by the everyday awfulness that we don't see the broader issues in play. In this book, economist Joshua Gans steps back from the short-term chaos to take a clear and systematic look at how economic choices are being made in response to COVID-19.
"Gans was writing while the UK and US governments were procrastinating."—Nature
---
SCIENCE (PLUS A SCIENCE FICTION TITLE)
Science is at the core of what we publish. These are just some of the exciting books you will find from the MIT Press this fall.
How much information is too much? Do we need to know how many calories are in the giant vat of popcorn that we bought on our way into the movie theater? Do we want to know if we are genetically predisposed to a certain disease? Can we do anything useful with next week's weather forecast for Paris if we are not in Paris? In Too Much Information, Cass Sunstein examines the effects of information on our lives.
"An accessible treatise on the need to ensure that information improves citizens' well-being with a narrative [that] is clear and relatable."—Kirkus Reviews
In his new book, A Synthesizing Mind, Howard Gardner reflects on his intellectual development and his groundbreaking work, tracing his evolution from bookish child to eager college student to disengaged graduate student to Harvard professor.
"An illuminating account of how such a breakthrough came about, a thick description of the life trajectory and the intellectual formation that led to this enduring achievement."—Stephen Greenblatt, author of Tyrant: Shakespeare on Politics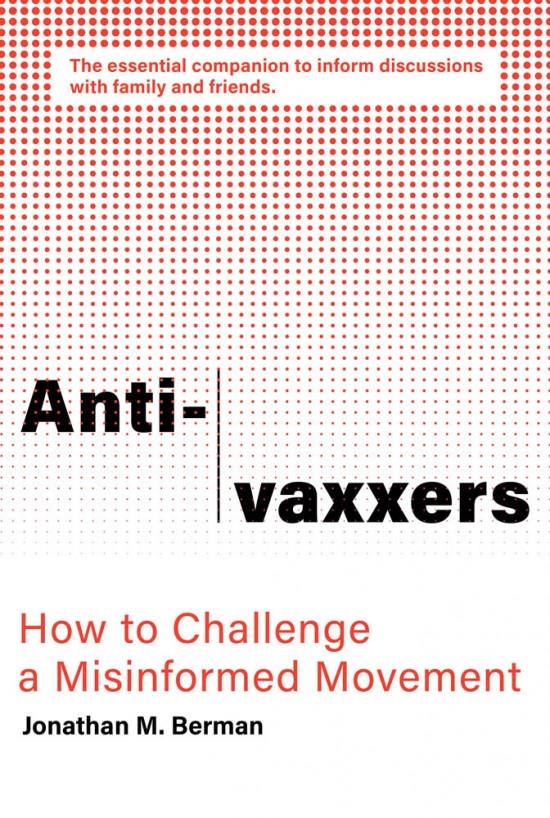 In Anti-vaxxers, Jonathan Berman explores the phenomenon of the anti-vaccination movement, recounting its history from its nineteenth-century antecedents to today's activism, examining its claims, and suggesting a strategy for countering them.
"Before you get into another argument with an anti-vaxxer, simply pull this book off the shelf, hand it to them, and say 'here.'"—Lee McIntyre,
Research Fellow, Center for Philosophy and History of Science, Boston University; author of Post-Truth and The Scientific Attitude
If an alien visitor were to collect ten souvenir life forms to represent life on earth, which would they be? This is the thought-provoking premise of Marianne Taylor's The Story of Life in 10 1/2 Species. Each life form explains a key aspect about life on Earth. From the sponge that seems to be a plant but is really an animal to the almost extinct soft-shelled turtle deemed extremely unique and therefore extremely precious, these examples reveal how life itself is arranged across time and space, and how humanity increasingly dominates that vision.
Entanglements: Tomorrow's Lovers, Families, and Friends
Edited by Sheila Williams
Translated by Ken Liu
Science fiction authors offer original tales of relationships in a future world of evolving technology.
In a future world dominated by the technological, people will still be entangled in relationships—in romances, friendships, and families. This volume in the Twelve Tomorrows series considers the effects that scientific and technological discoveries will have on the emotional bonds that hold us together.
---
CURRENT AFFAIRS AND POLITICS
Staying informed about current political news is a crucial part of being a citizen. These books look at how high-quality public data can empower citizens and inspire the government that serves them, and what happens to our ethics as technology makes the once-unimaginable a commonplace occurrence.
Public data are foundational to our democratic system. In the new economy, wealth is generated by access to data; government's job is to democratize the data playing field. Yet data produced by the American government are getting worse and costing more. In Democratizing Our Data, Julia Lane argues that good data are essential for democracy.
"… A clarion call we must heed to ensure a dynamic and viable future for timely, relevant, accurate, and objective federal statistical data. A must-read."—Nancy Potok, former Chief Statistician of the United States
Most people have a strong sense of right and wrong, and they aren't shy about expressing their opinions. But when we take a polarizing stand on something we regard as an eternal truth, we often forget that ethics evolve over time. Many shifts in the right versus wrong pendulum are driven by advances in technology. Our great-grandparents might be shocked by in vitro fertilization; our great-grandchildren might be shocked by the messiness of pregnancy, childbirth, and unedited genes. In Right/Wrong, Juan Enriquez reflects on what happens to our ethics as technology makes the once-unimaginable a commonplace occurrence.
---
ART AND DESIGN
The worlds of art and science often intersect in fascinating ways. First, a look at communal bathing and its history from the perspective of architecture and landscape. Plus, what makes something "art," and why does it cost so much?
We enter the public pool, the sauna, or the beach with a heightened awareness of our bodies and the bodies of others. The phenomenology of bathing opens all of our senses toward the physical world entwined with the social, while the history of bathing is one of shared space, in both natural and built environments. In The Architecture of Bathing, Christie Pearson offers a unique examination of communal bathing and its history from the perspective of architecture and landscape. Engagingly written, with more than 260 illustrations, many in color.
Encountering a work of contemporary art, a viewer might ask, "What does it mean?" "Is it really art?" and "Why does it cost so much?" These are not the questions that E. H. Gombrich set out to answer in his magisterial The Story of Art. This lively introduction to contemporary art stretches from Andy Warhol's Brillo boxes to Marina Abramović's performance art to today's biennale circuit and million-dollar auctions.
---
TECHNOLOGY
Technology shapes our present and our future. Here are some of our top tech picks this year that will help you stay informed (and might even start a revolution).
In Cyber Republic, George Zarkadakis presents an alternative, outlining a plan for using technology to make liberal democracies more inclusive and the digital economy more equitable. Cyber Republic is no less than a guide for the coming Fourth Industrial Revolution and the post-pandemic world.
"A worthy study in politics, technology, and the possibilities of remaking democracy in order to save it."—Kirkus Reviews
​
The life and times of The Smart Wife—feminized digital assistants who are friendly and sometimes flirty, occasionally glitchy but perpetually available.
"Provocative and engaging! The Smart Wife is a timely and wide-ranging examination of smart home technology and the Internet of Things that is sure to draw you in."—Genevieve BellDistinguished Professor and 3A Institute Director, Australian National University; Senior Fellow, Intel Corporation
​
---
The Fall 2020 MIT Press Catalog features six new titles from the popular MIT Press Essential Knowledge Series. This series offers accessible, concise, beautifully produced books on topics of current interest. Written by leading thinkers, the books in this series deliver expert overviews of subjects that range from the cultural and historical to the scientific and technical.
In 2020, we explore these topics:
​
---
​