Explore a selection of our most anticipated releases of the month
This month, a new volume in the MIT Press Essential Knowledge series that explores the fascinating, fraught, intimate, morphing matter of gender; a biography of the pixel by Pixar cofounder Alvy Ray Smith; and a collection of global cannabis histories. If that's not enough, you can browse several other new releases below or explore all of our new and forthcoming releases here.
---
In A Black Gaze, Tina Campt examines Black contemporary artists who are shifting the very nature of our interactions with the visual through their creation and curation of a distinctively Black gaze. Their work—from Deana Lawson's disarmingly intimate portraits to Arthur Jafa's videos of the everyday beauty and grit of the Black experience, from Kahlil Joseph's films and Dawoud Bey's photographs to the embodied and multimedia artistic practice of Okwui Okpokwasili, Simone Leigh, and Luke Willis Thompson—requires viewers to do more than simply look; it solicits visceral responses to the visualization of Black precarity. Writing with rigor and passion, Campt describes the creativity, ingenuity, cunning, and courage that is the modus operandi of a Black gaze.
"At once an incomparable critical inquiry, a rapt personal itinerary, and a cadenced poem, A Black Gaze by Tina Campt opens the mind, and eyes, to some of today's most transformative Black art and artists." —Thelma Golden, The Studio Museum in Harlem
You might also like Carrie Mae Weems edited by Sarah Elizabeth Lewis
---
Gender(s)

by Kathryn Bond Stockton
In this volume in the MIT Press Essential Knowledge series, Kathryn Bond Stockton explores the fascinating, fraught, intimate, morphing matter of gender. Stockton argues for gender's strangeness, no matter how "normal" the concept seems; gender is queer for everyone, she claims, even when it's played quite straight. And she explains how race and money dramatically shape everybody's gender, even in sometimes surprising ways. This compelling background propels the question that drives this book and foregrounds race: what is "the opposite sex," after all? If there is no opposite, doesn't the male/female duo undergirding gender come undone?
You might also like A Brief History of Feminism by Patu and Antje Schrupp
---
"Climate change is a hoax—and so is coronavirus." "Vaccines are bad for you." These days, many of our fellow citizens reject scientific expertise and prefer ideology to facts. They are not merely uninformed—they are misinformed. They cite cherry-picked evidence, rely on fake experts, and believe conspiracy theories. How can we convince such people otherwise? How can we get them to change their minds and accept the facts when they don't believe in facts? In this book, Lee McIntyre shows that anyone can fight back against science deniers, and argues that it's important to do so. Science denial can kill. McIntyre offers tools and techniques for communicating the truth and values of science, emphasizing that the most important way to reach science deniers is to talk to them calmly and respectfully—to put ourselves out there, and meet them face to face.
"A well-argued yet discouraging exercise in the application of reason to unreason." —Kirkus Reviews
You might also like They Knew: The US Federal Government's Fifty-Year Role in Causing the Climate Crisis by James Gustave Speth
---
Why do the powerful feel so threatened by political cartoons? Cartoons don't tell secrets or move markets. Yet, as Cherian George and Sonny Liew show us in Red Lines, cartoonists have been harassed, trolled, sued, fired, jailed, attacked, and assassinated for their insolence. The robustness of political cartooning—one of the most elemental forms of political speech—says something about the health of democracy. In a lively graphic narrative—illustrated by Liew, himself a prize-winning cartoonist—Red Lines crisscrosses the globe to feel the pulse of a vocation under attack. This engaging account makes it clear that cartoon censorship doesn't just matter to cartoonists and their fans. When the red lines are misapplied, all citizens are potential victims.
"The political cartoon is the art form of our deeply troubled world, and this brilliant, disturbing, and ultimately hopeful book is far and away the definitive guide." —Vincent Mosco, author of The Political Economy of Communication and The Digital Sublime
You might also like The Politics of Dating Apps: Gender, Sexuality, and Emergent Publics in Urban China by Lik Sam Chan
---
This book gathers together authors from the new wave of cannabis histories that has emerged in recent decades. It offers case studies from Africa, Asia, the Americas, Europe, and the Middle East. It does so to trace a global history of the plant and its preparations, arguing that Western colonialism shaped and disseminated ideas in the nineteenth century that came to drive the international control regimes of the twentieth. More recently, the emergence of commercial interests in cannabis has been central to the challenges that have undermined that cannabis consensus. These texts also suggest that globalization might have a cannabis history. The migration of consumers, the clandestine networks established to supply them, and international cooperation on control may have driven much of the interconnectedness that is a key feature of the contemporary world.
You might also like Botanicum Medicinale: A Modern Herbal of Medicinal Plants by Catherine Whitlock
---
In response to the twin crises of homelessness and housing insecurity, an emerging "housing justice" coalition argues that America's apparent inability to provide decent housing for all is a moral failing. Yet if housing is a right, as housing justice advocates contend, what is the content of that right? In a wide-ranging examination of these issues, Casey Dawkins chronicles the concept of housing justice, investigates the moral foundations of the US housing reform tradition, and proposes a new conception of housing justice that is grounded in moral principles that appeal to the home's special connection to American life.
"Dawkins's Just Housing is the definitive volume on the ethical bases and imperatives of an American 'right to home.' Thoroughly researched, beautifully written. A must-read for anyone interested in justice." —Sonia Hir, Dean and Hughes Professor in Landscape Architecture and Planning at the College of Environment + Design, University of Georgia
You might also like Introduction to Urban Science: Evidence and Theory of Cities as Complex Systems by Luís M. A. Bettencourt
---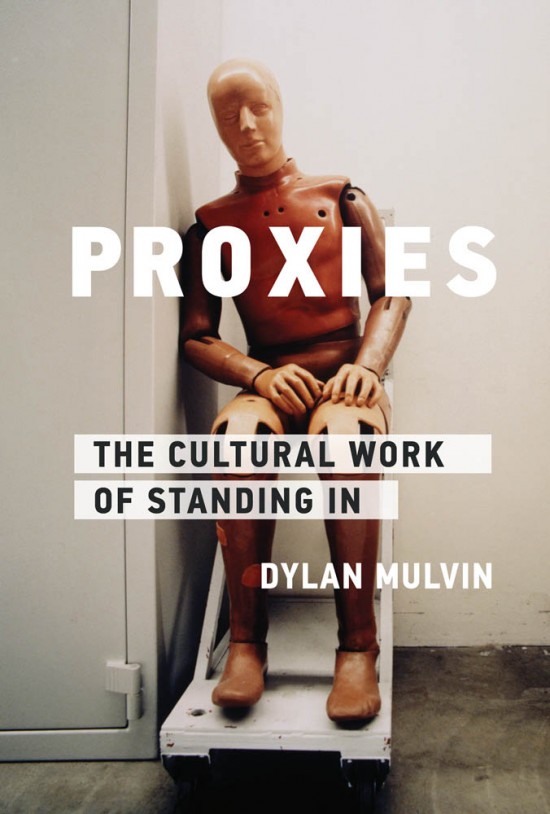 Our world is built on an array of standards we are compelled to share. In Proxies, Dylan Mulvin examines how we arrive at those standards, asking, "To whom and to what do we delegate the power to stand in for the world?" Mulvin shows how those with the power to design technology, in the very moment of design, are allowed to imagine who is included—and who is excluded—in the future.
"Underneath the world we know, there is a hidden landscape of carefully constructed stand-ins, models, prototypes. This ferociously original book maps that region and opens up new ways to explain how our technological infrastructures become what they are." —Fred Turner, Harry and Norman Chandler Professor of Communication at Stanford University; author of The Democratic Surround
You might also like Things We Could Design: For More Than Human-Centered Worlds by Ron Wakkary
---
Visual imagery is at the heart of humanitarian and human rights activism, and video has become a key tool in these efforts. The Saffron Revolution in Myanmar, the Green Movement in Iran, and Black Lives Matter in the United States have all used video to expose injustice. In Seeing Human Rights, Sandra Ristovska examines how human rights organizations are seeking to professionalize video activism through video production, verification standards, and training. The result, she argues, is a proxy profession that uses human rights videos to tap into journalism, the law, and political advocacy. She offers a case study of the visual turn in the law; describes advocacy and marketing strategies; and argues that the transformation of video activism into a proxy profession privileges institutional and legal spaces over broader constituencies for public good.
"Engaging and lucid, Seeing Human Rights offers a vital analysis of the institutions and collectives that mobilize video in the fight for human rights, tackling key issues of our times." —Lisa Parks, Distinguished Professor of Film and Media Studies at University of California, Santa Barbara
You might also like Democratizing our Data: A Manifesto by Julia Lane
---
The Great Digital Convergence of all media types into one universal digital medium occurred, with little fanfare, at the recent turn of the millennium. The bit became the universal medium, and the pixel—a particular packaging of bits—conquered the world. Henceforward, nearly every picture in the world would be composed of pixels—cell phone pictures, app interfaces, Mars Rover transmissions, book illustrations, video games. In A Biography of the Pixel, Pixar cofounder Alvy Ray Smith argues that the pixel is the organizing principle of most modern media, and he presents a few simple but profound ideas that unify the dazzling varieties of digital image making.
"A wide-ranging narrative that covers everything from Turing machines to Pixar (a studio he co-founded). Arguing that the pixel is the organizing principle of most modern media, Smith approaches his subject from multiple angles: art, technology, entertainment, business, and history." —Cartoon Brew
You might also like Homebrew Gaming and the Beginnings of Vernacular Digitality by Melanie Swalwell
---
Death and the dead body have never been more alive in the public imagination—not least because of current debates over modern medical technology that is deployed, it seems, expressly to keep human bodies from dying, blurring the boundary between alive and dead. In this book, John Troyer examines the relationship of the dead body with technology, both material and conceptual: the physical machines, political concepts, and sovereign institutions that humans use to classify, organize, repurpose, and transform the human corpse. Doing so, he asks readers to think about death, dying, and dead bodies in radically different ways.
"Troyer is one of our greatest thinkers on the ways technology and capitalism continue to transform the idea of the human corpse." —Caitlin Doughty, mortician and bestselling author of Smoke Gets in Your Eyes
You might also like Life, Death, and Other Inconvenient Truths: A Realist's View of the Human Condition by Shimon Edelman
---
In a series of talks and essays from 1937, Wells, author of The War of the Worlds, proselytized for what he called a "World Brain," as manifested in a World Encyclopedia—a repository of scientifically established knowledge—that would spread enlightenment around the world and lead to world peace. Wells was imagining something like a predigital Wikipedia. The World Encyclopedia would provide a summary of verified reality (in about forty volumes); it would be widely available, free of copyright, and utilize the latest technology. Of course, as Bruce Sterling points out in the foreword to this edition of Wells's work, the World Brain didn't happen; the internet did. And yet, Wells anticipated aspects of the internet, envisioning the World Brain as a technical system of networked knowledge (in Sterling's words, a "hypothetical super-gadget"). Wells's optimism about the power of information might strike readers today as naïvely utopian, but possibly also inspirational.
"A time-capsule from a moment perfectly like our own that could not be more different from our own—a vision of steampunk Wikipedian peace and noble truth vanquishing cynical lies. A utopia and a cautionary tale." —Cory Doctorow, author of Attack Surface and How to Destroy Surveillance Capitalism
You might also like Teaching Machines: The History of Personalized Learning by Audrey Watters
---