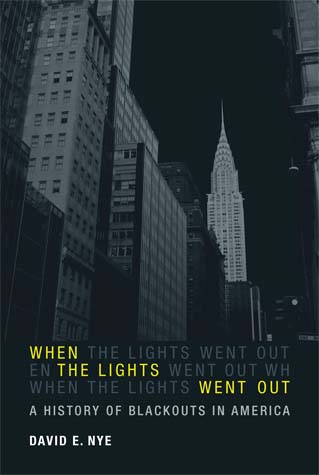 David Nye, author of When the Lights Went Out: A History of Blackouts in America, discusses America's response to power outages following Hurricane Sandy.
The blackouts that came in the wake of tropical storm Sandy left millions of people without electricity. These blackouts reminded Americans once again about how dependent they are on the current that runs silently into their homes, offices, and factories. As recently as 1965, when a major blackout shrouded the entire Northeastern United States in darkness, it was easier to cope with the crisis. Many typewriters were still manual, and the New York Times still had enough of them to write up the news and get it out the next day in a special edition that was printed in New Jersey, where the power remained on. Back in 1965, important information was not stored on hard disks, and computers still had magnetic tapes. Then, the effects were most dire for travelers caught in airports, in subway tunnels, and on the high floors of buildings without water.
In 2012, computers are embedded in all sorts of devices, all of which require electricity. Even those that run on batteries need to be recharged after a short time, and some New Yorkers who have electricity proved willing to share it with complete strangers, letting them charge their cell phones, computers, and other devices, often for free. This generosity was not an isolated phenomenon, but is characteristic of what happens in a blackout.
Widespread power failures only became possible after the development of regional grids of electrical service in the late 1930s and 1940s. As society increased its dependence on electricity, blackouts presented ever-greater problems, especially in hospitals, like that at NYU in 2012, when backup generators failed, and all the patients had to be moved elsewhere through the flooded streets of New York. Doctors and nurses gave selflessly to help their patients, for example by operating equipment manually, when this was possible, until it could be plugged in again. In the streets themselves many restaurants grilled meat and gave it away to passersby, most of whom could not cook in their dark apartmentments, rather than let the meat rot in rapidly thawing freezers.
As in 1965 and almost every other blackout, people talked to neighbors they hardly knew and helped total strangers. Blackout are a break in time, a semi-magical moment when the clocks literally stop and ordinary life cannot go on, when people discover a common humanity too often obscured by the demanding pace of contemporary life. When the Lights Went Out explores the experience of blackouts, beginning with their World War II military necessity, including a wide range of reactions, ranging from exuberance and playfulness to riot, arson, and looting.
Yet most commonly, Americans have responded to blackouts by reaching out and helping one another. When thrust outside their cocoon of electrical conveniences and communications, they discover how much they share. In 1965, a woman returned home to her apartment near Union Square and found all the neighbors gathering in the only flat with a gas stove. Neighbors who had seldom spoken brought to one another out choice items from their suddenly dead refrigerators for an impromptu party and established friendships that persisted for decades. To its surprise, the Office of Civil Defense found that fear was not a widespread reaction to the 1965 blackout and that fear did not prove contagious. The investigators were surprised, because "projection of one's own fear on others is a fairly well-known phenomenon which has been experimentally induced." Instead, it found a "contagion of joy."