Highlighting underrepresented voices in highly competitive fields
STEM researchers are doing some of the most important work possible today, chasing cures for diseases, developing climate solutions, and engineering a better world. Yet when it comes to the fields of science, technology, engineering, and math, the gender gaps are still strikingly large.
While there is still much work to be done, the MIT Press remains committed to championing underrepresented communities and their voices in these key fields, particularly through our work with the Fund for Diverse Voices. To celebrate National STEM Day, we've collected works by some of our authors making important discoveries in their fields while breaking down barriers.
---
Data Feminism by Catherine D'Ignazio and Lauren F. Klein
Today, data science is a form of power. It has been used to expose injustice, improve health outcomes, and topple governments. But it has also been used to discriminate, police, and surveil. This potential for good, on the one hand, and harm, on the other, makes it essential to ask: Data science by whom? Data science for whom? Data science with whose interests in mind? The narratives around big data and data science are overwhelmingly white, male, and techno-heroic. In Data Feminism, Catherine D'Ignazio and Lauren Klein present a new way of thinking about data science and data ethics—one that is informed by intersectional feminist thought.
"Without ever finger-wagging, Data Feminism reveals inequities and offers a way out of a broken system in which the numbers are allowed to lie." —WIRED
---
In The Alchemy of Us, scientist and science writer Ainissa Ramirez examines eight inventions—clocks, steel rails, copper communication cables, photographic film, light bulbs, hard disks, scientific labware, and silicon chips—and reveals how they shaped the human experience. She describes, among other things, how our pursuit of precision in timepieces changed how we sleep; how the railroad helped commercialize Christmas; how the necessary brevity of the telegram influenced Hemingway's writing style; and how a young chemist exposed the use of Polaroid's cameras to create passbooks to track Black citizens in apartheid South Africa. These fascinating and inspiring stories, including key contributions from undercelebrated BIPOC and female inventors, offer new perspectives on our relationships with technologies.
"More than just a series of stories about the benefits of inventions, The Alchemy of Us shows readers how the technologies that we shape, in turn, shape us." —Smithsonian Magazine
Read more about the book on the MIT Press blog, read an excerpt from the book in the MIT Press Reader, and watch the author on MIT Press Live.
---
The Curie Society by Heather Einhorn, Adam Staffaroni and Janet Harvey
An action-adventure original graphic novel, The Curie Society follows a team of young women recruited by an elite secret society—originally founded by Marie Curie—with the mission of supporting the most brilliant female scientists in the world. The heroines of the Curie Society use their smarts, gumption, and cutting-edge technology to protect the world from rogue scientists with nefarious plans. Readers can follow recruits Simone, Taj, and Maya as they decipher secret codes, clone extinct animals, develop autonomous robots, and go on high-stakes missions. The Curie Society introduces an entertaining, empowering media universe for fans hungry to read about brilliant, analytical young women as scientific heroes. Stay tuned for more Curie Society missions featuring our heroes saving the world through their STEM skills and teamwork.
"Janet Harvey's script packs in high-kicking derring-do and affecting character moments, and as a celebration of diversity and female empowerment her story cannot be faulted." —Financial Times
Read more on the publishing process with editor Jermey Matthews and watch the authors on MIT Press Live.
---
In 1944, Britain led the world in electronic computing. By 1974, the British computer industry was all but extinct. What happened in the intervening thirty years holds lessons for all postindustrial superpowers. In Programmed Inequality, Mar Hicks explores the story of labor feminization and gendered technocracy that undercut British efforts to computerize. That failure sprang from the government's systematic neglect of its largest trained technical workforce simply because they were women. Drawing on recently opened government files, personal interviews, and the archives of major British computer companies, Programmed Inequality takes aim at the fiction of technological meritocracy. Hicks shows how the disappearance of women from the field had grave macroeconomic consequences for Britain, and why the United States risks repeating those errors in the twenty-first century.
"Hicks has delivered a sophisticated work of scholarship: detailed, insightful, deeply researched…. But the book has a much wider relevance, too, which it would be unwise to understate." —Times Higher Education
Read an excerpt from the book in the MIT Press Reader: Britain's Sexist Campaign to Sell Computers
---
Ben Barres was known for his groundbreaking scientific work and for his groundbreaking advocacy for gender equality in science. In this book, completed shortly before his death from pancreatic cancer in December 2017, Barres (born in 1954) describes a life full of remarkable accomplishments—from his childhood as a precocious math and science whiz to his experiences as a female student at MIT in the 1970s to his female-to-male transition in his forties, to his scientific work and role as teacher and mentor at Stanford.
"His candor and love for science transform the ensuing story into a portrait of a singular personality that was shaped by his status as an outsider." —Science
Read an excerpt from the book in the MIT Press Reader: The Coming Out of a Transgender Scientist
---
Today, women earn a relatively low percentage of computer science degrees and hold proportionately few technical computing jobs. Meanwhile, the stereotype of the male "computer geek" seems to be everywhere in popular culture. Few people know that women were a significant presence in the early decades of computing in both the United States and Britain. Indeed, programming in postwar years was considered woman's work (perhaps in contrast to the more manly task of building the computers themselves). In Recoding Gender, Janet Abbate explores the untold history of women in computer science and programming from the Second World War to the late twentieth century. Demonstrating how gender has shaped the culture of computing, she offers a valuable historical perspective on today's concerns over women's underrepresentation in the field.
"Good reading for anyone who would like to explore the challenges of setting policies and gain a better understanding of the gender dynamics of a scientific and technical workforce." —Maxine Cohen, Computing Reviews
---
Myra Strober became a feminist on the Bay Bridge, heading toward San Francisco. It is 1970. She has just been told by the chairman of Berkeley's economics department that she can never get tenure. Driving home afterward, wondering if she got something out of the freezer for her family's dinner, she realizes the truth: she is being denied a regular faculty position because she is a mother. Flooded with anger, she also finds her life's work: to study and fight sexism, in the workplace, in academia, and at home.
"Myra Strober's Sharing the Work is the memoir of a woman who has learned that 'having it all' is only possible by 'sharing it all,' from finding a partner who values your work as much as you do, to fighting for family-friendly policies." —Gloria Steinem
Learn more about the book on the MIT Press Reader: Podcast: An Economist's Fight for Equity in the Workplace
---
The Hubble Space Telescope has revolutionized our understanding of the universe. It has, among many other achievements, revealed thousands of galaxies in what seemed to be empty patches of sky; transformed our knowledge of black holes; found dwarf planets with moons orbiting other stars; and measured precisely how fast the universe is expanding. In Handprints on Hubble, retired astronaut Kathryn Sullivan describes her work on the NASA team that made all of this possible. Sullivan, the first American woman to walk in space, recounts how she and other astronauts, engineers, and scientists launched, rescued, repaired, and maintained Hubble, the most productive observatory ever built.
"To read [this book] is to marvel at what we have achieved in our nascent efforts to inhabit space, and to recognize that we have barely begun that quest." —Nature
Read more about the author's record setting achievements and watch her on MIT Press Live.
---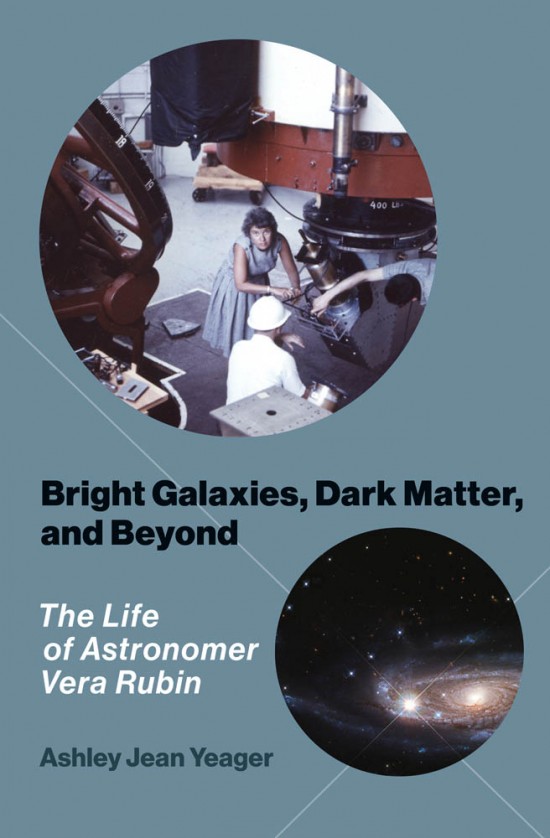 We now know that the universe is mostly dark, made up of particles and forces that are undetectable even by our most powerful telescopes. The discovery of the possible existence of dark matter and dark energy signaled a Copernican-like revolution in astronomy: not only are we not the center of the universe, neither is the stuff of which we're made. Astronomer Vera Rubin (1928–2016) played a pivotal role in this discovery. By showing that some astronomical objects seem to defy gravity's grip, Rubin helped convince the scientific community of the possibility of dark matter. In Bright Galaxies, Dark Matter, and Beyond, Ashley Jean Yeager tells the story of Rubin's life and work, recounting her persistence despite early dismissals of her work and widespread sexism in science.
"A compelling life of a top-notch scientist." —Kirkus Reviews
---
Alice Gorman is a space archaeologist: she examines the artifacts of human encounters with space. These objects, left behind on Earth and in space, can be massive (dead satellites in eternal orbit) or tiny (discarded zip ties around a defunct space antenna). They can be bold (an American flag on the moon) or hopeful (messages from Earth sent into deep space). They raise interesting questions: Why did Elon Musk feel compelled to send a red Tesla into space? What accounts for the multiple rocket-themed playgrounds constructed after the Russians launched Sputnik? Gorman—affectionately known as "Dr Space Junk" —takes readers on a journey through the solar system and beyond, deploying space artifacts, historical explorations, and even the occasional cocktail recipe in search of the ways that we make space meaningful.
"Dr Space Junk vs The Universe offers some thought-provoking discussions about what and how to preserve our heritage in space." —The Space Review
Read excerpts from the book in the MIT Press Reader: The Moon of Science or the Moon of Lovers? and When Birds Migrated to the Moon.
---
Public data are foundational to our democratic system. People need consistently high-quality information from trustworthy sources. In the new economy, wealth is generated by access to data; government's job is to democratize the data playing field. Yet data produced by the American government are getting worse and costing more. In Democratizing Our Data, Julia Lane argues that good data are essential for democracy. Her book is a wake-up call to America to fix its broken public data system.
"This pithy volume is a must-read account of what the US federal statistical agencies are, what they do and why public statistics are vital to democracy. If we cannot be counted, we cannot be heard." —Nature
Watch the author on MIT Press Live.
---