In the face of obstacles, women continue to make major advancements in STEM
February 11 is the UN's International Day of Women and Girls in Science, highlighting widespread gender imbalance in STEM fields. According to UNESCO data, less than 30 percent of researchers worldwide are women, and only around 30 percent of women choose STEM-related fields in higher education. Gender biases and stereotypes often dissuade women and girls from participating in science—but even so, women have made major impacts in STEM that have forever changed their fields of study and the world at large.
The MIT Press has long championed women and girls in science, publishing works by and about women in these fields. To celebrate International Day of Women and Girls in Science, we have created a list with a few of our favorite books and authors which underscore just how profoundly women have changed the world of STEM.
A number of these publications are supported by the MIT Press's Fund for Diverse Voices, an initiative that provides monetary support to acquire or develop book projects by and about women and other underrepresented groups in the STEM fields. Founded in 2018, the fund enables the MIT Press to offer competitive advances to talented authors, cover the cost of high-quality production features, hire developmental editors to work with scholars who may not have the time or experience crafting general trade books, and ensure that these works reach the widest readership possible. The Fund for Diverse Voices has helped expand upon the work the Press has been doing for years by bringing exceptional works with diverse voices and topics to new readers around the world.
---
Data Feminism by Catherine D'Ignazio and Lauren F. Klein
A new way of thinking about data science and data ethics that is informed by the ideas of intersectional feminism.
"Without ever finger-wagging, Data Feminism reveals inequities and offers a way out of a broken system in which the numbers are allowed to lie." —WIRED
---
In the bestselling tradition of Stuff Matters and The Disappearing Spoon: a clever and engaging look at materials, the innovations they made possible, and how these technologies changed us.
"By explaining how inventions both exotic and mundane transformed society, Ramirez's ingenious survey illuminates the effect of science in a manner accessible to a wide readership." —Publishers Weekly
---
The Curie Society by Heather Einhorn, Adam Staffaroni, and Janet Harvey; edited by Joan Hilty
A covert team of young women—members of the Curie society, an elite organization dedicated to women in STEM—undertakes high-stakes missions to save the world.
"A refreshing and empowering read!" —Pia Guerra, political cartoonist and artist of Y: The Last Man
---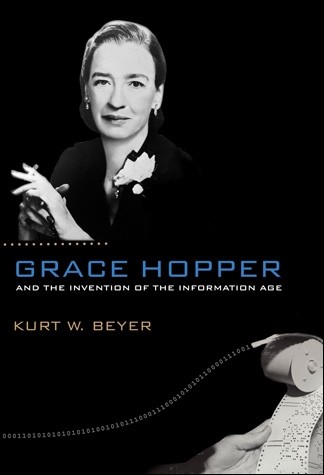 The career of computer visionary Grace Murray Hopper, whose innovative work in programming laid the foundations for the user-friendliness of today's personal computers that sparked the information age.
"Beyer's meticulously researched biography shows how Hopper was one of the first to [realize] that software was the key to unlocking the power of the computer." —The Guardian
---
How to survive the digital revolution without getting trampled: your guide to online mindfulness, digital self-empowerment, cybersecurity, creepy ads, trustworthy information, and more.
"Required reading for both admitted luddites and longtime digital denizens." —Publishers Weekly
---
The untold history of women and computing and how pioneering women succeeded in a field shaped by gender biases.
"Trenchant, precise, and compelling." —Carol Colatrella, International Journal of Gender, Science, and Technology
---
How women coped with both formal barriers and informal opposition to their entry into the traditionally masculine field of engineering in American higher education.
"A must-read for those interested in engineering history, women's history, and the history of education as well as for everyone seeking to improve the situation of women students, faculty, and administrators." —Technology and Culture
---
The tumultuous life and career of a woman who fought gender bias on multiple fronts—in theory and in practice, for herself and for us all.
"There should be many more books like this… Bravo." —Tyler Cowen, Marginal Revolution
---
The first American woman to walk in space recounts her experience as part of the team that launched, rescued, repaired, and maintained the Hubble Space Telescope.
"To read [this book] is to marvel at what we have achieved in our nascent efforts to inhabit space, and to recognize that we have barely begun that quest."  —Nature
---
From newborn galaxies to icy worlds and blazing quasars, a behind-the-scenes story of how Palomar Observatory astronomers unveiled our complex universe.
"A comprehensive and gripping achievement… Destined to be a landmark work on the history of astronomy." —ForeWord Reviews
---
The life and times of the Smart Wife—feminized digital assistants who are friendly and sometimes flirty, occasionally glitchy but perpetually available.
"This fascinating exploration of AI asks what the assignment of gender of its devices says about the societies they are meant to help." —Shelf Awareness
---