Open for Climate Justice
We stand with the organizers of Open Access Week in the belief that "sharing knowledge is a human right, and tackling the climate crisis requires the rapid exchange of knowledge across geographic, economic, and disciplinary boundaries." In this spirit, we are delighted to share a reading list of open access books and journals that expand our understanding of climate and environmental studies.
Join us in celebrating—Open for Climate Justice.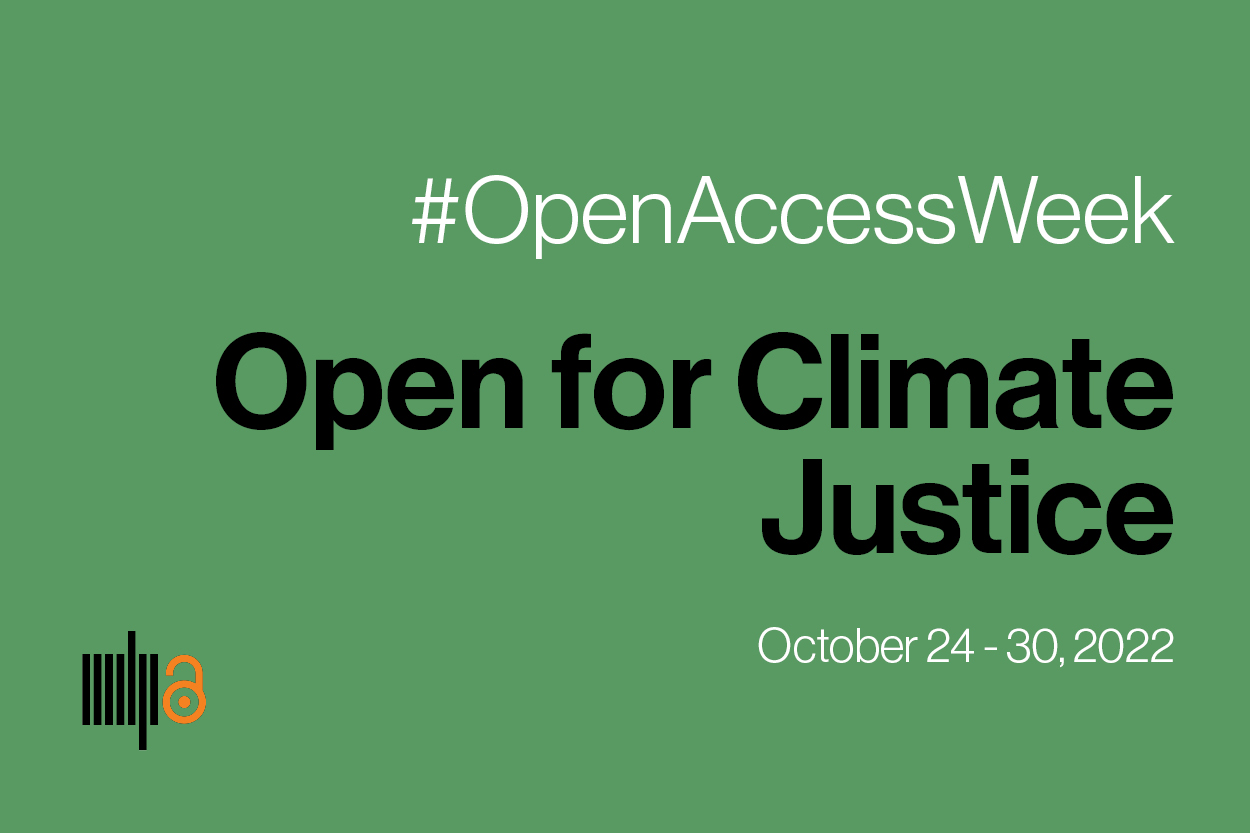 Open Access exhibit at MIT
Visit the Hayden Library @ MIT for an exhibit of open access titles published by the MIT Press.
10/24/22 thru 10/30/22
Journal of Climate Resilience & Climate Justice
Edited by William Shutkin
The MIT Press is honored to publish the new online, open access, peer-reviewed Journal of Climate Resilience & Climate Justice. The journal, to launch with a first issue in May 2023, will provide research reports, case studies, essays, and opinions from the working edge of the climate resilience and climate justice fields written in a non-technical, digestible, and educational style for a broad audience.
Published in partnership with MENV
MIT Prize for Open Data ceremony
Our colleagues at the MIT School of Science and the MIT Libraries will present the MIT Prize for Open Data on October 28 at 2 pm.
The MIT Press Director of Journals and Open Access, Nick Lindsay, will also be on hand to answer questions about open access publishing.
Hayden Library @ MIT
The MIT Press joins with publishers, librarians, educators, students, and readers, across the globe in celebration of International Open Access Week (October 24 - 30, 2022).
In 1995, we leaped into the open access publishing movement, with the publication of William Mitchell's City of Bits. In 2022, we will celebrate opening a record 86 publications by the end of the year—thanks in large part to the tremendous international support for our Direct to Open publishing model.

Open access publishing book publishing takes a village and we are grateful to the authors, staff, funders, librarians, educators, and readers who have made our extensive open access journals and book collection possible.
#OpenAccess is the future.

Explore open access publishing at the MIT Press:
Open access journal articles
Global Environmental Politics
Innovations: Technology, Governance, Globalization
Harvard Data Science Review
We are presenting a selection of books that fit the theme Open for Climate Justice, but we have hundreds of additional open access titles. To explore the complete open library, please visit the MIT Press Direct platform.
"Open access must be the future of academic publishing. . . I applaud MIT Press for pioneering in open access, in cooperation with its participating libraries, and am delighted that my book on climate technology policy will be available with open access."
William Bonvillian
Senior Director of Special Projects at MIT's Office of Digital Learning and MIT Press author