An account of the life and work of a once-famous self-taught American artist of the 1940s
A garment worker and slipper manufacturer with no training in art, Morris Hirshfield was never expected to make history. Against all odds, his wildly stylized paintings of female figures, animals, and landscapes became internationally known in the 1940s.
Admired by Pablo Picasso, Piet Mondrian, and the French surrealists, his peak moment of visibility occurred in 1943, when the Museum of Modern Art mounted a one-man show of his work. The exhibition was widely reviewed—though mostly reviled—by the press, who jeeringly crowned Hirshfield "Master of the Two Left Feet" for his tendency to display the female body in that unorthodox fashion. And after the artist's death in 1946, his work was largely forgotten.
In Master of the Two Left Feet, art historian Richard Meyer rediscovers Hirshfield for twenty-first-century audiences, offering full-color reproductions that capture the vibrant imagination and sheer visual pleasure of Hirshfield's paintings. "I am convinced of the visual power and pleasure of Hirshfield's art," Meyer writes. "In some cases, the artist's paintings seem to change before our eyes as we focus on details, incidents, and discrete brush-strokes imperceptible at first glance. His pictures reward attentive looking, something they have not always been granted in the past."
Ten years in the making, Master of the Two Left Feet presents Hirshfield's unlikely career as a painter not only as a missing episode in the history of twentieth-century art but as a case study of the ways in which artists go missing from historical knowledge and public memory. By looking closely at Hirshfield and his milieu in 1940s Brooklyn, Meyer demonstrates how much we have yet to learn, and to see, of the visual past.
"What is remembered of the past and what is forgotten?" Meyer asks. "Who is granted a place in history and who gets written out of it? How does what is forgotten continue to shape our lives in the current moment?"
The book features a catalog of works compiled by curator Susan Davidson which provides the most comprehensive documentation of the artist's work ever assembled. An exhibition at the American Folk Art Museum in New York, "Morris Hirshfield Rediscovered," was curated by the author and developed as an extension of the book and is on view from September 22, 2022 through January 27, 2023.
---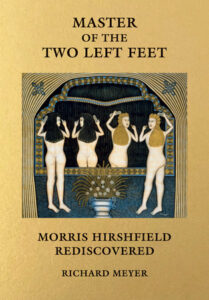 Master of the Two Left Feet in the media:
---