Explore a selection of our most anticipated new releases for October
This month: The story of the arcane table-top game that became a pop culture phenomenon and the long-running legal battle waged by its cocreators; an unsparing account of what went wrong in the search for an Alzheimer's cure (and a roadmap that points us in a new direction in our journey); a visionary blueprint for tackling the climate crisis; and more. Explore these and a selection of our other new and soon-to-be-published titles below.
---
Climate change is a planetary emergency. We have to do something now—but what? Saul Griffith has a plan. In Electrify, Griffith lays out a detailed blueprint—optimistic but feasible—for fighting climate change while creating millions of new jobs and a healthier environment. Griffith's plan can be summed up simply: electrify everything. He explains exactly what it would take to transform our infrastructure, update our grid, and adapt our households to make this possible. Billionaires may contemplate escaping our worn-out planet on a private rocket ship to Mars, but the rest of us, Griffith says, will stay and fight for the future.
"A radical but realistic take on the new direction of infrastructure, investment, and production, Electrify is required reading for an economy-wide green transition in the USA." —Mariana Mazzucato, Professor in the Economics of Innovation and Public Value, University College London; author of Mission Economy
You might also like Extracting Accountability: Engineers and Corporate Social Responsibility by Jessica M. Smith
---
When Dungeons & Dragons was first released to a small hobby community, it hardly seemed destined for mainstream success—and yet this arcane tabletop role-playing game became an unlikely pop culture phenomenon. In Game Wizards, Jon Peterson chronicles the rise of Dungeons & Dragons from hobbyist pastime to mass market sensation, from the initial collaboration to the later feud of its creators, Gary Gygax and Dave Arneson. As the game's fiftieth anniversary approaches, Peterson—a noted authority on role-playing games—explains how D&D and its creators navigated their successes, setbacks, and controversies.
"Jon is the great gaming librarian, the dramaturg of D&D. He is always my first call when I'm researching anything related to the history of tabletop gaming. If he doesn't know, most likely no one else does, and this book is no exception. With it, Jon sets straight the 'canon' of the tragic history of how Dungeons & Dragons and TSR were ripped from the very grasp of the man who dreamed them up." —Joe Manganiello, actor, producer, Dungeons & Dragons ambassador, and writer/game designer for Wizards of the Coast/Hasbro
You might also like Making Games for Impact by Kurt Squire
---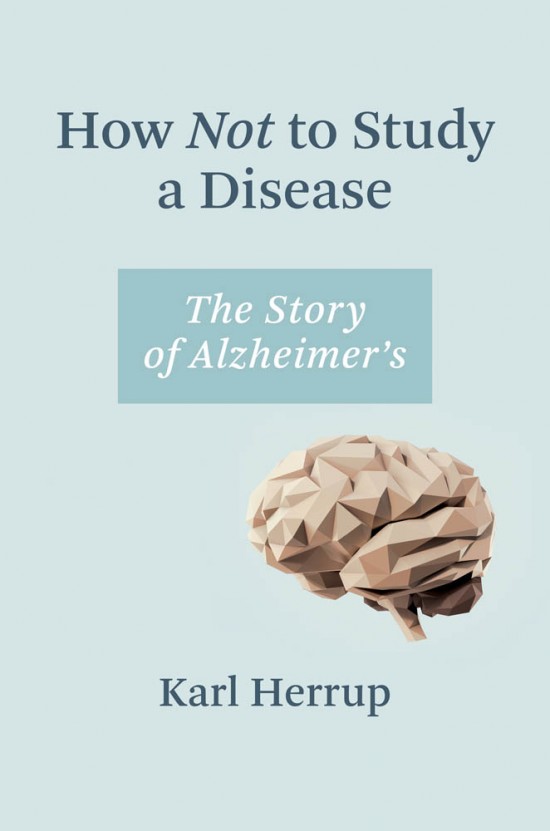 For decades, some of our best and brightest medical scientists have dedicated themselves to finding a cure for Alzheimer's disease. What happened? Where is the cure? The biggest breakthroughs occurred twenty-five years ago, with little progress since. In How Not to Study a Disease, neurobiologist Karl Herrup explains why the Alzheimer's discoveries of the 1990s didn't bear fruit and maps a direction for future research. Herrup describes the research, explains what's taking so long, and offers an approach for resetting future research.
Learn more about the book on the MIT Press blog: A close, critical eye on Alzheimer's research
You might also like A Cultural Biography of the Prostate by Ericka Johnson
---
In How We Give Now, Lucy Bernholz shows that philanthropy is more than writing a check and claiming a tax deduction. For most of us—the non-wealthy givers—philanthropy can be a way of living our values and fully participating in society. We give in all kinds of ways—shopping at certain businesses, canvassing for candidates, donating money, and making conscious choices with our retirement funds. We give our cash, our time, and even our data to make the world a better place. Bernholz takes readers on a tour of the often-overlooked worlds of participatory philanthropy, learning from a diverse group of forty resourceful givers.
"With this book, Lucy Bernholz shows us that philanthropy is about much more than money. It is about enacting our values in the world. A vitally needed book, How We Give Now offers a fuller understanding of generosity, the foundation of our shared future, giving us a lot to consider, to be wary of—and to hope for." —Asha Curran, CEO, Giving Tuesday
You might also like Just Money: Mission-Driven Banks and the Future of Finance by Katrin Kaufer and Lillian Steponaitis
---
The basis of competition is changing. Are you prepared? Rivalry is shifting from well-defined industries to broader ecosystems: automobiles to mobility platforms; banking to fintech; television broadcasting to video streaming. Your competitors are coming from new directions and pursuing different goals from those of your familiar rivals. In this world, succeeding with the old rules can mean losing the new game. Winning the Right Game introduces the concepts, tools, and frameworks necessary to confront the threat of ecosystem disruption and to develop the strategies that will let your organization play ecosystem offense.
"Winning the Right Game is a landmark contribution to the strategy literature. Any leader who does not understand their value architecture risks being blindsided by ecosystem disruption. Essential reading for anyone involved in setting strategy—or who wants to be." —Rebecca Henderson, John and Natty University Professor, Harvard University; author of Reimagining Capitalism in a World on Fire
You might also like Open Strategy: Mastering Disruption from Outside the C-Suite by Christian Stadler, Julia Hautz, Kurt Matzler and Stephan Friedrich von den Eichen
---
Featuring more than twenty projects created by Syrian refugees at the Azraq Refugee Camp in Jordan, Design to Live offers a new way of understanding design as a subversive worldmaking practice and as a tool for reclaiming agency in conditions of forced displacement. The projects—including a vertical garden, an arrangement necessitated by regulations that forbid planting on the ground; a front hall, fashioned to protect privacy; a baby swing, made from recycled school desks; and a chess set, carved from broomsticks—showcase the discrepancy between standardized humanitarian design and the real sociocultural needs of refugees, and highlights the power of art and design to create a life worth living.
You may also like Toward the Not-Yet: Art as Public Practice edited by Jeanne van Heeswijk, Maria Hlavajova and Rachael Rakes
---
Public data are foundational to our democratic system. People need consistently high-quality information from trustworthy sources. In the new economy, wealth is generated by access to data; government's job is to democratize the data playing field. Yet data produced by the American government are getting worse and costing more. In Democratizing Our Data, Julia Lane argues that good data are essential for democracy. Her book is a wake-up call to America to fix its broken public data system.
"This pithy volume is a must-read account of what the US federal statistical agencies are, what they do and why public statistics are vital to democracy. If we cannot be counted, we cannot be heard." —Nature
You might also like Building the New Economy: Data as Capital by Alex Pentland, Alexander Lipton and Thomas Hardjono
---
We are tethered to our devices all day, every day, leaving data trails of our searches, posts, clicks, and communications. Meanwhile, governments and businesses collect our data and use it to monitor us without our knowledge. So we have resigned ourselves to the belief that privacy is hard—choosing to believe that websites do not share our information, for example, and declaring that we have nothing to hide anyway. In this informative and illuminating book, a computer privacy and security expert argues that privacy is not that hard if we build it into the design of systems from the start.
"Jaap-Henk Hoepman shows that privacy was wrongly declared dead. He offers the practical tools to guarantee privacy in the design process." —Marleen Stikker, Founder and Director, The Waag Society media lab
You might also like A New History of Modern Computing by Thomas Haigh and Paul E. Ceruzzi
---
Even when an architectural drawing does not show any human figures, we can imagine many different characters just off the page: architects, artists, onlookers, clients, builders, developers, philanthropists—working, observing, admiring, arguing. In Stories from Architecture, Philippa Lewis captures some of these personalities through reminiscences, anecdotes, conversations, letters, and monologues that collectively offer the imagined histories of twenty-five architectural drawings. The drawings, reproduced in color, are all sourced from the Drawing Matter collection in Somerset, UK, and are fascinating objects in themselves; but Lewis shifts our attention beyond the image to other possible histories that linger, invisible, beyond the page, and in the process animates not just a series of archival documents but the writing of architectural history.
"I read Lewis's stories over breakfast and they always make me smile." —Anthony Vidler
You might also like Sandfuture by Justin Beal
---
Banksy is the world's most famous living artist, yet no one knows who he is. For more than twenty years, his wryly political and darkly humorous spray paintings have appeared mysteriously on urban walls around the globe, generating headlines and controversy. Art critics disdain him, but the public (and the art market) love him. With this generously illustrated book, artist and critic Carol Diehl is the first author to probe the depths of the Banksy mystery. Through her exploration of his paintings, installations, writings, and Academy Award-nominated film, Exit Through the Gift Shop, Diehl proves unequivocally that there's more to Banksy than the painting on the wall.
You might also like Negative Space edited by Peter Weibel
---
If you've read the comments posted by readers of online news sites, you may have noticed the absence of women's voices. Men are by far the most prolific commenters on politics and public affairs. When women do comment, they are often attacked or dismissed more than men are. In fact, the comment forums on news sites replicate conditions of the offline and social media world, where women are routinely interrupted, threatened, demeaned, and called wrong, unruly, disgusting, and out of place. In Digital Suffragists, Marie Tessier—a veteran journalist and a New York Times comment moderator for more than a decade—investigates why women's voices are outnumbered online and what we can do about it.
"Vividly argued, this book provides a clear and compelling understanding of why threats against women online—treated like issues of private safety—are political threats against civil rights and democracy." —Soraya Chemaly, activist and author of Rage Becomes Her: The Power of Women's Anger
You might also like Data Feminism by Catherine D'Ignazio and Lauren F. Klein
---
Much of what we think we know about how the internet "disrupted" media industries is wrong. Piracy did not wreck the recording industry, Netflix isn't killing Hollywood movies, and information does not want to be free. In Media Disrupted, Amanda Lotz looks at what really happened when the recorded music, newspaper, film, and television industries were the ground zero of digital disruption. It's not that digital technologies introduced "new media," Lotz explains; rather, they offered existing media new tools for reaching people.
"Amanda Lotz is one of the keenest minds in, and writers about, media. This book is an essential diagnosis of how and why tech disruption changed the media ecosystem, and as a consequence, a must-read road map for the disruption ahead." —Evan Shapiro, Producer; Professor of Media at NYU and Fordham University
You might also like The Demonstration Society by Claude Rosental
---