Featuring a citizen's guide to fighting back against disinformation; a sweeping guide to tabletop roleplaying games; a collective story of scientific innovation; and so much more
The cover of our fall 2023 catalog is an homage to our MIT Press colophon, created by pioneering graphic designer Muriel Cooper in the 1960s. This past April, we were honored to announce that the Museum of Modern Art (MoMA) had acquisitioned the MIT Press colophon into its permanent collection, serving as testament to the intellectual daring and cutting-edge design that the Press has been known for since its very beginnings.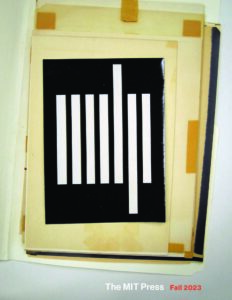 This recognition comes on the heels of the Press's 60th anniversary in 2022. As we reflect on our first six decades and the legacy of our work, we find ourselves looking toward the future and asking how we will continue to make an impact in a world that is so rapidly changing.
"You will perhaps notice that so many of the fantastic books in this season's catalog contend with notions of dignity, and empowerment, and care—not only for our fellow human beings, but also for our one dear planet—and ask how we can do better," writes Bill Smith, director of trade publishing and sales at the MIT Press, in a brief introduction to the catalog. "In this fraught climate, when so much is at stake and so much of our bedrock is being questioned, I hope you share in my belief that it is a small measure of comfort to know that we can, and still do, strive for excellence in the work we do—for it is only in doing work of the highest standards that we are able to move the needle ever closer to dignity, empowerment, and care for us all."
Featured below are a few highlights from our fall publications. We invite you to download the entire catalog and browse all our new books and journals, and we thank you, as ever, for your support.
---
The effort to destroy facts and make America ungovernable didn't come out of nowhere. It is the culmination of seventy years of strategic denialism. In On Disinformation, Lee McIntyre shows how the war on facts began, and how ordinary citizens can fight back against the scourge of disinformation that is now threatening the very fabric of our society. Drawing on his twenty years of experience as a scholar of science denial, McIntyre explains how autocrats wield disinformation to manipulate a populace and deny obvious realities, why the best way to combat disinformation is to disrupt its spread, and most importantly, how we can win the war on truth.
---
Women physicists and astronomers from around the world have transformed science and society, but the critical roles they played in their fields are not always well-sung. Her Space, Her Time, authored by award-winning quantum physicist Shohini Ghose, brings together the stories of these remarkable women to celebrate their indelible scientific contributions. Engaging, accessible, and timely, Her Space, Her Time is a collective story of scientific innovation, inspirational leadership, and overcoming invisibility that will leave a lasting impression on any reader curious about the rule-breakers and trendsetters who illuminated our understanding of the universe.
---
Playing on the phrase "a theory of everything" from physics, Michael Muthukrishna's ambitious, original, and deeply hopeful book A Theory of Everyone draws on the most recent research from across the sciences, humanities, and the emerging field of cultural evolution to paint a panoramic picture of who we are and what exactly makes human beings different from all other forms of life on the planet. Casting a bold and wide net, Muthukrishna's book is a must-read for anyone interested in a better future for ourselves and for generations to come.
---
The Age of Prediction is about two powerful, and symbiotic, trends: the rapid development and use of artificial intelligence and big data to enhance prediction, as well as the often paradoxical effects of these better predictions on our understanding of risk and the ways we live. Beginning with dramatic advances in quantitative investing and precision medicine, this book explores how predictive technology is quietly reshaping our world in fundamental ways, from crime fighting and warfare to monitoring individual health and elections.
---
When Gary Gygax and Dave Arneson released Dungeons & Dragons in 1974, they created the first roleplaying game of all time. Little did they know that their humble box set of three small digest-sized booklets would spawn an entire industry practically overnight. In Monsters, Aliens, and Holes in the Ground, Stu Horvath explores how the hobby of roleplaying games, commonly known as RPGs, blossomed out of an unlikely pop culture phenomenon and became a dominant gaming form by the 2010s. Going far beyond D&D, this heavily illustrated tome covers more than three hundred different RPGs that have been published in the last five decades.
---