In honor of the Lunar New Year, we share images from China's Vanishing Worlds by Matthias Messmer and Hsin-Mei Chuang capturing poignant scenes of landscapes and lifestyles in rural China. These photographs depict how the New Year is celebrated in China's countryside, far from Beijing or Shanghai.
A traditional almanac [huangli, sometimes also called a peasant almanac] shows lunar dates and solar cycles and offers advice on what is proper or improper to do on a given day. For instance, it might be appropriate to offer sacrifices to the gods, engage in animal husbandry, marry or make wine; but road-work, in contrast, would be inadvisable. In the past, such calendars were profusely illustrated, as shown in the pictured example from 1949. During the Cultural Revolution, the Communists condemned such calendars as a symbol of the Four Olds. Today, only elderly people in rural areas still refer to such calendars before engaging in daily activities. They usually purchase them in the market around the Chinese New Year.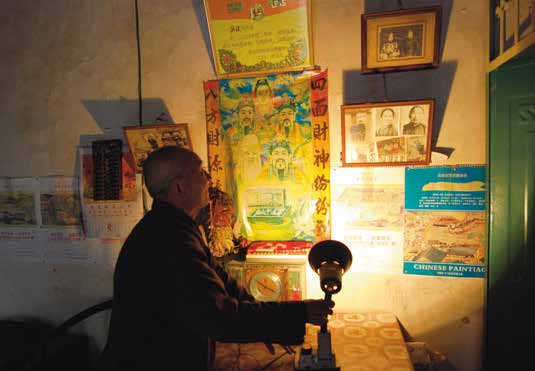 Colorful and delicate dough figures [mianmomo] are created on New Year's celebrations (as well as weddings, birthdays and funerals).
Temple festivals [miaohui], which usually honor the respective village deity's birthday, are probably the only nationwide celebrations aside from the New Year's festival. The date of a local temple festival is chosen based on the lunar or local minority calendar, and the celebration typically combines theatrical performances with a temporary market.
Shehuo processions are commonly held in the northern provinces around the time of the Lantern Festival [Yuanxiaojie], which marks the end of the Chinese New Year celebrations.