Welcome to our landing page for the Society for Cinema & Media Studies 2023 conference. Browse our latest books and journals for SCMS2023, and order the MIT Press titles below for 20% off using discount code APRIL2023 when you order through Penguin Random House and ship to a US mailing address. Full discount terms and conditions here.
For textbook desk/exam copies, click the book jacket and then follow the steps.
Congratulations to Bo Ruberg, winner of the 2023 Anne
Friedberg

Innovative Scholarship Award!
Leonardo is the leading international peer-reviewed journal on the use of contemporary science and technology in the arts and music and the application and influence of the arts and humanities on science and technology.
Leonardo is interested in work that crosses the artificial boundaries separating contemporary arts and sciences. Featuring illustrated articles written by artists about their own work as well as articles by historians, theoreticians, philosophers and other researchers, the journal is particularly concerned with issues related to the interaction of the arts, sciences and technology.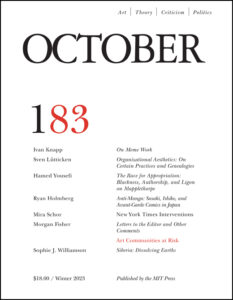 At the forefront of art criticism and theory, October focuses critical attention on the contemporary arts—film, painting, music, media, photography, performance, sculpture, and literature—and their various contexts of interpretation.
Examining relationships between the arts and their critical and social contexts, October addresses a broad range of readers. Original, innovative, and provocative, each issue presents the best, most current texts by and about today's artistic, intellectual, and critical vanguard.