During the Cold War, many American women working in radio and television were blacklisted and shut out of their industries for their supposed communist affiliations. In truth, these women, their ambition, and their passion for social justice and diverse representation threatened the traditional portrayal of the American family in the media. Carol Stabile's The Broadcast 41: Women and the Anti-Communist Blacklist explores the consequences of the exclusion of 41 of these women's narratives from film and radio. She also imagines what the media could have looked like had it embraced the full range of perspectives that these courageous women hoped to represent. Below, meet some of the key players in Stabile's book.
For more information, including primary documents, check out The Broadcast 41's official website here.
Stella Adler (1901-1992)
All five of her siblings were actors, and Stella Adler was no exception. In addition to starring in Yiddish theater in New York and London, she worked on behalf of the American Committee for the Protection of the Foreign Born and against the Ku Klux Klan and white supremacy at large. As Stabile writes, "Stella Adler, Vera Caspary, Judy Holliday, and Madeleine Lee were children and grandchildren of immigrants and participants in ethnic cultures that kept memories of migration alive through vaudeville and the Yiddish theater and press." Although Adler died in 1992, the Stella Adler Studio of Acting in New York City and Los Angeles remain testaments to her brilliance as a performer and an activist. Adler's pupils included Marlon Brando, Judy Garland, Elizabeth Taylor, and Martin Sheen.
Vera Caspary (1899-1987)
The writer of novels, short stories, and screenplays about women who, as Stabile writes, "worked for their living and relished their reproductive and economic independence," Vera Caspary was a documented Communist Party member and anti-racist activist (Caspary wrote an article for the African American newspaper the Chicago Defender about the Scottsboro case, in which nine young men were accused of raping two white women in Alabama). In the late 1930s, Caspary complained about the Party's treatment of female members, including lesbians, and ultimately left the Party when Stalin pledged not to take military action against Hitler in 1939.
Marguerita Maria "Mady" Christians (1892-1951)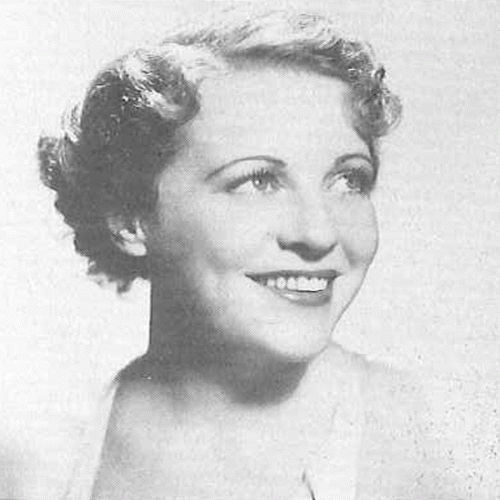 Originally from Austria, actress (Hamlet, Henry IV, I Remember Mama) Mady Christians was an active participant in unions representing workers in the television industry and a member of the American Committee for the Protection of the Foreign Born. She was also an ardent opponent of racism and fought against white supremacy along with many of her fellow blacklisted women. Because of her activist work, Christians found herself under surveillance by the FBI, which sought the names and information about suspected communist activities in theater. Sadly, Christians died of a stroke that her friends attributed to the FBI's harassment of her.
Ruth Gordon (1896-1985)
Ruth Gordon didn't just write successful comedies (Adam's Rib, Pat and Mike), but she also starred in films such as Rosemary's Baby and Harold and Maude. Gordon, who got her start as an extra in silent films, would later work on behalf of the American Committee for the Protection of the Foreign Born along with Stella Adler, Mady Christians, and Lena Horne. Gordon's films, which she co-wrote with her husband Garson Kanin, feature strong, independent women who must confront exasperating gender expectations. "When asked what two characteristics a woman had to have to succeed in show business," Stabile writes, "Ruth Gordon replied, 'imagination and indestructibility.'" Gordon had both in spades.
Lillian Hellman (1905-1984)
Lillian Hellman, a Broadway playwright and screenwriter, enjoyed many successes in the 1930s with The Children's Hour (1934) and The Little Foxes (1939). A member of the Communist Party in the late 1930s for a brief period of time, Hellman later found herself forced to testify in front of the House Un-American Activities (HUAC). When she refused to answer HUAC's questions in full, she was blacklisted. Hellman's activism focused largely on class and criticized the women's liberation movement as "'diversionary,'" Stabile explains, "insofar as it took people's eyes 'off the problems in our capitalist society.'"
Lena Horne (1917-2010)
A singer, dancer, actress, civil rights activist, and self-described feminist, Lena Horne had a successful career as both a nightclub performer and a film star (Cabin in the Sky and Stormy Weather). During World War II, she refused to perform for segregated audiences; later, she marched in an NAACP rally with Medgar Evers. In 1963, Horne participated on the March on Washington. Horne was included in Red Channels, a 1950 listing the Bureau used to justify investigations into communist activity, which effectively blacklisted her. Still, she refused to back down. "The film industry cast African Americans strictly as maids of hypersexualized women," Stabile says, "stereotypes that Lena Horne, Hazel Scott, and Fredi Washington fought against for the entirety of their careers."
Lisa Sergio (1905-1989)
Born in Florence, Italy, Lisa Sergio, worked as a radio news broadcaster in Mussolini's Italy. Her growing criticism of Mussolini caused her to flee the country in 1937. She began working for NBC in New York City, but left when she realized "NBC was not about to allow a woman to do news." Local New York City radio station WQXR would allow Sergio to do the news and Sergio became one of the first female news commentators on WQXR, developing her program, "A Column of the Air," which broadcast seven times a week from 1939 to 1946. Sergio wrote and delivered lectures articles and lectures on feminism and women in the years after World War II and wrote of Anita Garibaldi and lesbian lawyer and clubwoman Lena Madesin Phillips. Sergio was part of a tightly-knit group of what we would now describe as queer women in government, publishing, and broadcasting, and her programs often featured other queer women on her shows (Eva Le Gallienne, Margaret Webster, Mary Margaret McBride). Sergio was adopted by Vermont natives and Ladies Home Journal food editor in 1943. The two divided their time between Vermont, where Batchelder had a home, and New York City.